News
One-year Anniversary
On the 23rd of November 2022, it was the one-year anniversary of the Cohort receiving its first participant. Therefore, those who joined the ACED Cohort in November / December 2021 and January 2022 will shortly be contacted about booking their annual appointment. Please bear with us as we work through the list.
ACED Cohort celebrates its 100th Participant
The ACED Clinical Research Team is very proud to announce that there are now over 100 participants in the ACED Cohort. In October 2022, the team welcomed Howard into the ACED Cohort. He said: "I'm happy to be helping and I'm proud of the 99 people before me who have led the way. It is great the ACED Cohort has reached this number so quickly, it shows how many people recognise how important this is.
To encourage others to join, I'd say it's a really easy way to help with something which could revolutionise cancer diagnosis and save many people a lot of pain, stress and sadness. You will be made to feel welcome and comfortable throughout."
Meet the Team
We're delighted to introduce some of the newest members of the ACED Clinical Research team, so you can find out a bit more about what happens behind the scenes:
Adam Palmer - Data Manager
"Hi there! My name is Adam and I'm the Data Manager here at the ACED Clinic site. As the Data Manager it is my responsibility to ensure that all the information we collect from you in your time on the trial, is collected accurately and kept safe. I create and maintain all the database and electronic questionnaires we use, as well as our website.
Rosemary Felix - Research Lab Technician
"I process and store all the samples taken for the ACED Cohort. Your samples are kept frozen until they are requested for a scientific study and I make sure that they are kept in great condition to be used. I also keep track of all movements of samples whether they're in our storage or sent out to researchers."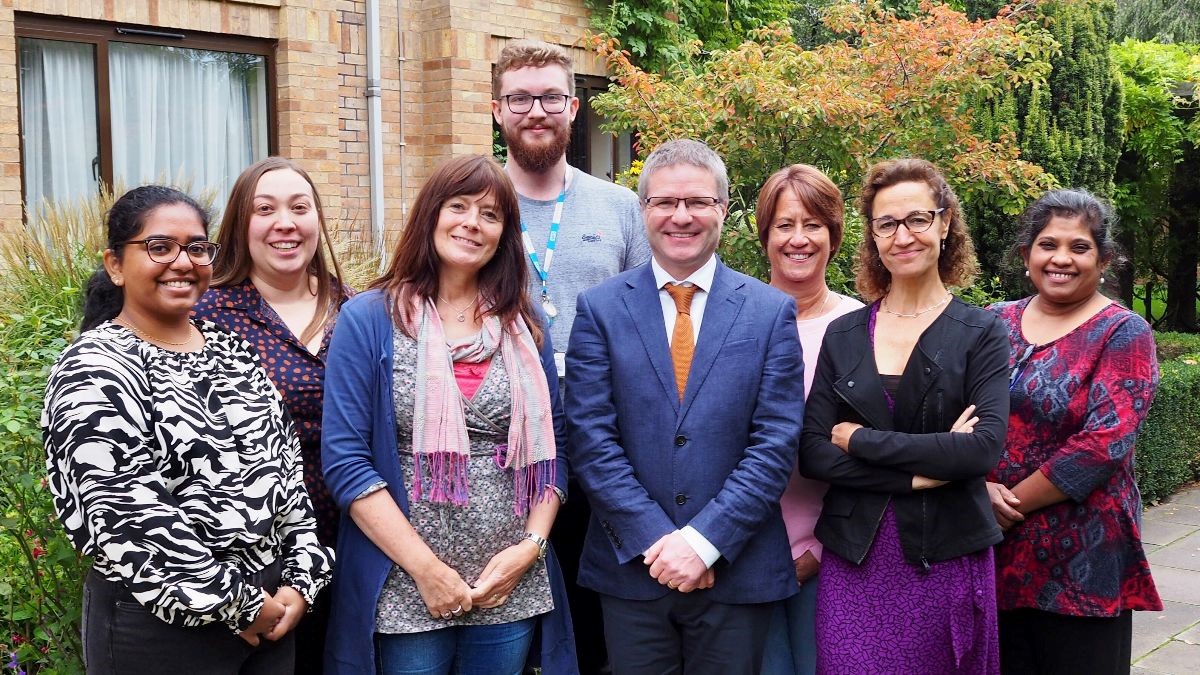 The ACED Clinical Research Team. Left-right: Rosemary, Alice, Sarah, Adam, Graham, Tracy, Ines, Irene
First Participant Joins the ACED Cohort
In November 2021, the ACED Clinic Cambridge team welcomed the first participant into the ACED Cohort! In an hour-long appointment at the Cambridge Clinical Research Centre, the willing volunteer completed a questionnaire and provided a blood and urine sample, and we very much appreciate their contribution to cancer early detection research. The team are still looking for hundreds of people to take part. Here's how you can sign up.
ACED Cohort Video
The ACED Clinic Cambridge team have produced a short video which provides more information about signing up for the ACED Cohort and what is involved when you come for your appointment.